Sister Wives
GH Spoilers: Brook Lynn Will Accept Tracy's Gift Of Deception, Only To Hand It Back Over To Lucy And The Gang
General Hospital (GH) spoilers reveal Brook Lynn Quartermaine (Amanda Setton) is adamant that she won't be accepting any handouts from her granny, Tracy Quartermaine (Jane Elliott).
Of course, Tracy thinks it's ridiculous that Brook Lynn is so invested in her dreams that she won't consider what Tracy deems to be a real career prospect.
But when Brook Lynn falls on hard times and starts to doubt her ability to make it as a music agent, she just might take a second look at Tracy's offer for her to take over at Deception — and she might like what she sees.
Brook Lynn likes being in control and is dying for a claim to fame. Will she sacrifice her friends further to do it?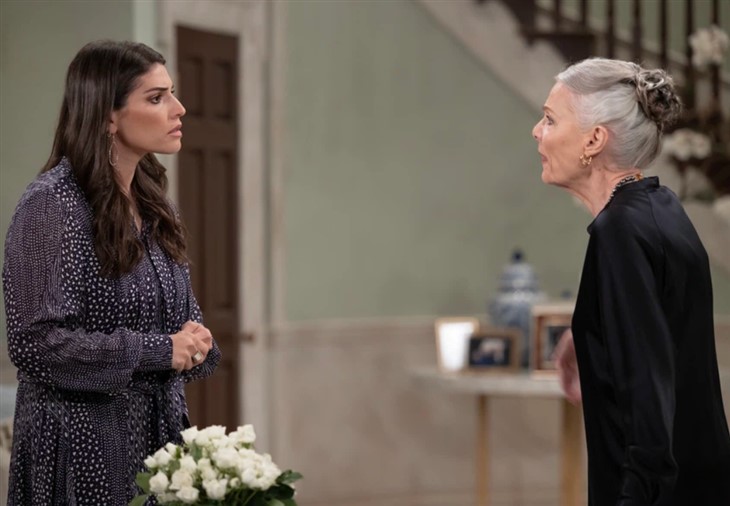 General Hospital Spoilers — Tracy Quartermaine Succeeds
Rumor has it Tracy may be behind the reason Brook Lynn's plan to sign Blaze (Jacqueline Lopez) goes up in smoke. That would be just like her.
Regardless, Brook Lynn will once again be back at square one and feeling defeated. That's the perfect time for Tracy to wave the scent of Deception in front of her granddaughter again in hopes that she will take the bait. A cozy corner office at the head of the company?
Brook Lynn may think taking Tracy's gift and handing it over to her friends who had it taken from them is the way to earn their trust and friendship back. But will she do it?
GH Spoilers – Suggest A Plan Is In Place
Brook Lynn is going to have an ally in Sasha Gilmore Corbin (Sofia Mattsson) when everyone else is against her.
After all, Sasha saw Brook Lynn with Tracy that day at the Metro Court pool — arguing over the flash drive. It was clear Brook Lynn wasn't conspiring with Tracy.
She was quite angry and bitter with her granny. Sasha's willingness to give Brook Lynn a pass will expand when BLO says she's going to accept Tracy's offer — and subsequently give the business back to Lucy Coe (Lynn Herring) cost-free.
General Hospital Spoilers — Will Brook Lynn Quartermaine Veer Off Course?
With her plan in motion, Brook Lynn will be sidelined by the news that Blaze is going to renege on her agreement to sign with BLQ.
It's hard to say which event will happen first and how they could impact each other. But if Brook Lynn goes back on her word, it could lead Sasha to ditch their friendship as well.
That might make for some uncomfortable entanglements at the Q mansion if Sasha plans to keep coming around with Cody Bell (Josh Kelly).
What does the future hold for the very fractured Deception? Where will things end up with Brook Lynn and her former friends, particularly with Maxie Jones (Kirsten Storms)? Stay tuned for more GH news and spoilers to find out.