General Hospital gangster Mason Gatlin has a target on his back now that the Godfather of Port Charles knows what he's been up to. So, his reign of terror on the ABC soap may be over soon.
General Hospital: Mason Gatlin Pulling the Strings
Currently, on GH, Mason Gatlin (Nathanyael Grey) is in control. He has his cousin, Austin Holt (Roger Howarth) and Ava Jerome (Maura West), right where he wants them.
No doubt, he hit the jackpot when he discovered that Ava had "killed" Nikolas Cassadine (Adam Huss). Now, he and whoever his boss is have Ava under their thumb.
And they want info on Sonny Corinthos (Maurice Benard) and his deal with Pikeman Security. However, the tables have turned on General Hospital.
Sonny Corinthos Knows the Truth at Last on GH
Recently, Sonny could tell there was something up with Ava. He knew she wasn't being honest about why she wanted to hire this new nanny Betty Rutherford (Ella Lentini). So, he called her out and demanded she tell him what's going on.
She finally broke down on General Hospital and told Sonny how Mason is threatening her and her birth mother, Delia Ryan (Ilene Kristen). If she doesn't do everything Mason wants, he will kill Delia. And he's certainly capable of it.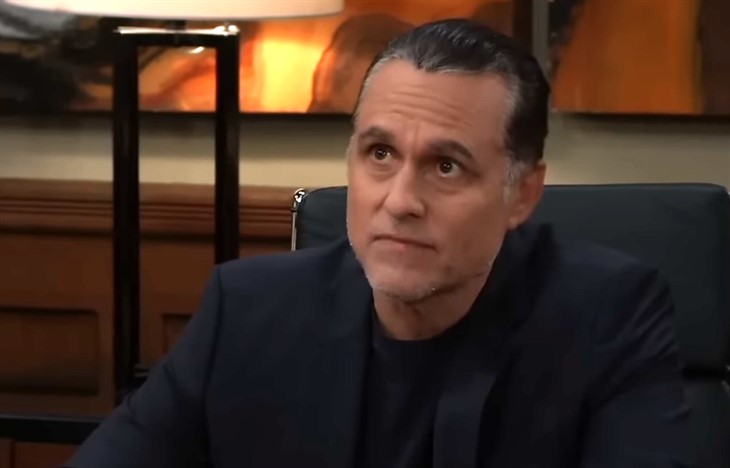 Furthermore, when rhe kingpin wanted to know what kind of leverage Mason has over her, she finally spilled the massive secret she's been hiding — she killed Nik. And Mason snatched his body. However, what Ava doesn't know is that Nik is actually alive.
He's in a coma, and Mason has him stashed somewhere. As long as he has Nik, he has Ava's cooperation — until now. Soon, Sonny promises Ava he'll take care of everything. No doubt that means Mason has jumped to the top of Sonny's hit list.
Kingpin Puts a Hit on Pautuck Mobster on General Hospital?
Soon, on GH, the mob boss will know the whole story, and he reassures Ava. He's going to fix everything, which most likely means he plans to kill Mason. Perhaps, that will be Dex Heller's (Evan Hofer) next order.
However, Mason may pull a fast one. No one knows Nikolas is alive. So he might be able to save his own skin by using Nik's whereabouts as leverage on General Hospital.
If Sonny kills him, he and Ava will never know where Nik is. And once Ava finds out that Nik's not dead, she may plead with Sonny to keep Mason alive — at least until they can find Nik.
So the Dark Prince might be the only thing that saves Mason from Sonny — for now. But eventually, the Don will make him pay, so he's a dead man walking. The action and drama on GH is intense. Don't miss a minute to see if Sonny eliminates Mason Gatlin on the ABC sudser.