General Hospital
General Hospital Spoilers: Thanksgiving Surprises, Heartbreaking Confrontation, Shocking Visitors
General Hospital spoilers and updates for the week of Monday, November 20-Thursday, November 23, 2023, tease Thanksgiving surprises and shocks-we should mention Friday, November 24 is pre-empted for sports.
General Hospital Spoilers Highlights
The Quartermaines and Anna Devane (Finola Hughes) are in for surprises, while Charlotte Cassadine (Scarlett Fernandez) is in for a shock!
General Hospital Spoilers: Family Celebration
At Alexis Davis' (Nancy Lee Grahn) house, family comes together for a Thanksgiving celebration, with all making a toast-Alexis, with water of course.
Alexis, Jordan Ashford, (Tanisha Harper) Sam McCall, (Kelly Monaco) Kristina Corinthos-Davis, (Kate Mansi) TJ Ashford (Tajh Bellow) and Molly Lansing-Davis (Kristen Vaganos) are seen raising their glasses.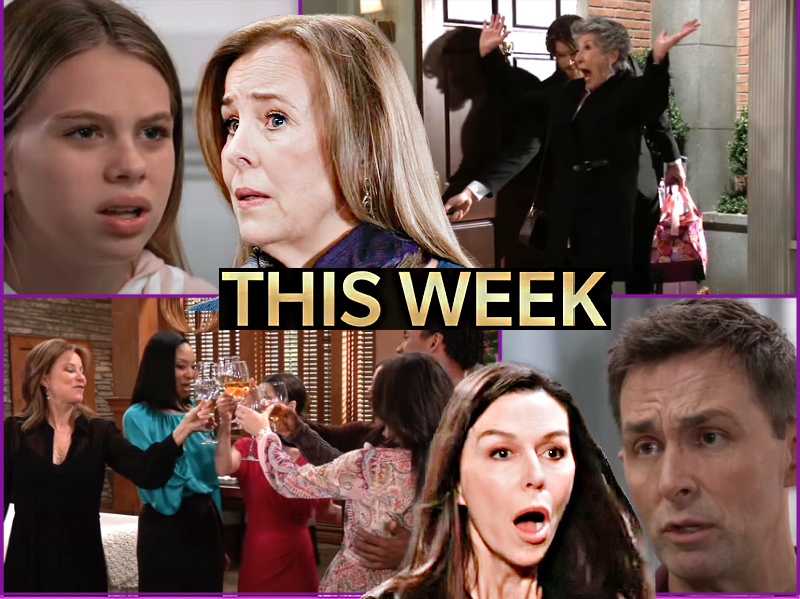 Dante Falconeri (Dominic Zamprogna) isn't seen in the promo, but he'll be checking out a new lead on Anna's case.
The mood seems positive, in spite of TJ and Molly's recent bad news-everyone is leaving their problems behind and being thankful. One thing they can be thankful for is their family being intact and getting along.
GH Spoilers: Turkey, Or Pizza-That Is The Question!
At the Quartermaine house, Lois Cerullo (Rena Sofer) tells Olivia Quartermaine (Lisa LoCicero) they are doing Thanksgiving, and it's going to be full of surprises!
One big surprise is Lois' mother, Gloria Cerullo (Ellen Travolta) as she arrives at the mansion, Yuri (Cyrus Hobbi) carrying her bags. Gloria is going to help with the turkey-might this be the first year since 1995 that they actually have a turkey?
 ALSO READ: General Hospital Spoilers: Sonny Confronts Nina Over Charlotte Cover-Up Ahead Of SEC Snitch Reveal!
That will be a surprise in itself-every single year since Annabelle the dog ate the turkey and Ned Quartermaine (Wally Kurth) suggested pizza, something's always happened to the turkey!
Nonetheless, Lois and Olivia are thrilled to see Gloria come through the front door-Lois hasn't seen her in many years.
General Hospital Spoilers: Charlotte Cassadine's Shocked-And Irritated
Elsewhere, Charlotte is shocked, and also appears irritated as Valentin Cassadine (James Patrick Stuart) gently confronts her, grandmother Laura Collins (Genie Francis) also there.
Laura looks concerned and watches Charlotte's reactions closely, as Valentin tells her he knows what she's been up to. Charlotte, as a teenage girl, will probably be very upset when she realizes that her father has searched her room!
The big question is, will Charlotte come clean, or will she come up with more lies? Up until recently, he's believed everything she tells him and deception has been easy!
GH Spoilers: Anna Devane's Big Surprise
Elsewhere, Anna walks into a big surprise as she exclaims, "My God-what?!" However, it looks like it's going to be a surprise and not a terrible shock as happened the night she shot Charlotte, thinking she was an intruder.
Robert Scorpio (Tristan Rogers) will deliver this surprise and it looks like it's going to be a good one. Will it be a surprise of family members not seen in a long time, or will it be something else?
Be sure to catch up on everything happening with GH right now. Come back here often for General Hospital spoilers, news, and updates.