Sister Wives star Meri Brown had a few allegations thrown her way recently, but instead of addressing them, she seemed to ignore them.
As the headlines blared "ᴀʙᴜsᴇ" accusations, she posted what some fans see as a rebuttal photo. So, the first wife of this TLC reality series seemed to say a thousand words with this one little picture.
Sister Wives: Started as Slow Trickle for Meri Brown
Allegations about first bride Meri Brown mistreating Kody Brown's kids first surfaced a while back. One of the original clues of a problem appeared in a book that the five then-spouses penned years ago.
In that book, Christine Brown told the story of confronting Meri about the way she took out her frustrations on Christine's kids. She told Meri to leave her kids alone.
But she didn't add details on what exactly that alleged "mistreatment" entailed. Years later, Maddie Brown Brush tweeted some harsh words about the first wife of the Sister Wives clan.
While Maddie didn't name-drop Meri, fans assumed it was her that she aimed at. Meri's reprimanding tweet started the ball rolling. It was for an unnamed person on her LuLaRoe team at the time who wasn't working up to their potential.
Maddie was on her team back then and tweeted what sounded like a retaliation tweet, which she quickly deleted. But that great invention of screenshots kept this Sister Wives' daughter's tweet alive and thriving way into the future.
Floodgates Open and Pour Out
More recently, Meri Brown seemed inundated with allegations from a few of Kody's adult kids. Paedon Brown didn't mince his words, he said Meri Brown went "beyond verbal ᴀʙᴜsᴇ" when it came to some of the kids.
Then his estranged sister, Gwendlyn Brown backed him up. She also said she witnessed Meri become ᴠɪᴏʟᴇɴᴛ with Mykelti Brown when they were kids. Next, Mykelti Brown Brush chimed in.
Cute 💞 pic.twitter.com/607wv6Yrnq

— Sister Wives (@sisterwivespage) April 9, 2015
She reports that while she got the brunt of Meri's anger, she wasn't physically ᴀʙᴜsᴇᴅ by her. But these few kids agreed they feared this Sister Wives' mom when they were young.
But it finally stopped when the kids became old enough to fight back, Mykelti reports. So, four adult kids and one of the other wives, Christine, all accused the first wife mistreated the kids in the Brown family.
Sister Wives: Meri Concocts ᴅᴀᴍᴀɢᴇ Control?
Meri didn't say a word as these allegations blew up online across various social media sites. Headlines aimed at the first wife of the Sister Wives show, but she remained quiet. So, she never really addressed this at all.
She put a blurb on social media about good friends having her back and sticking with her. But this was very similar to the many what fans call cryptic messages from Meri Brown.
The kids who accused Meri of mistreatment belong to Christine and Janelle Brown. Maddie is the daughter of Janelle and Christine is the mom of Mykelti, Paedon, and Gwendlyn. So it wasn't as if these accusations came from within one family.
But fans today see the photo above that Meri just posted as ᴅᴀᴍᴀɢᴇ control. Both these young men above are Janelle's sons. Logan Brown is on the left and Hunter Brown is on the right.
She was in Vegas recently, so she spent a few hours with these guys. This Sister Wives mom said she is proud of the "good men they've become." Fans think it is Meri's way of showing not all the kids think of her in a negative light.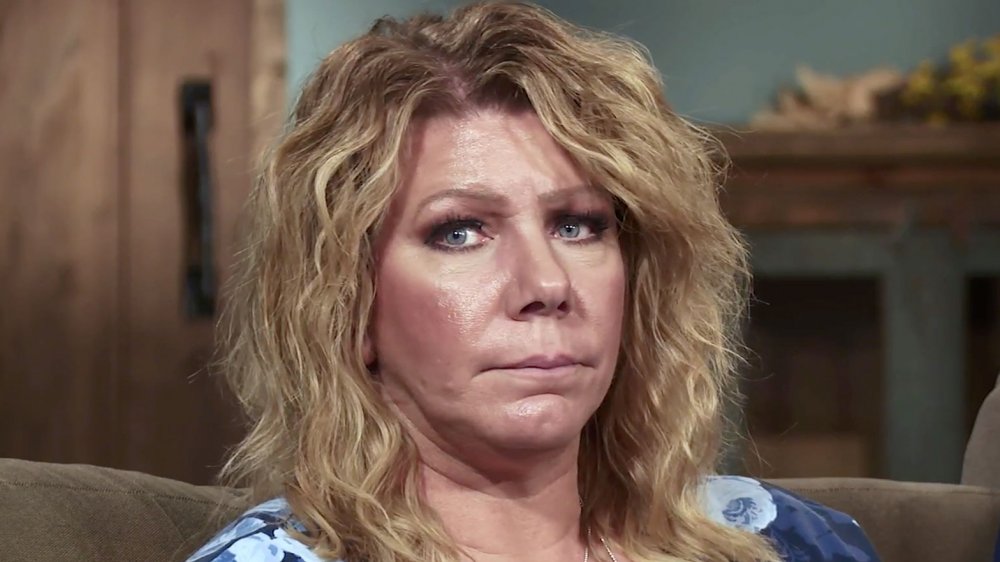 So, it looks like Meri's visit was very welcome by these two sons of the Brown family. With that said maybe the photo will work as a bit of ᴅᴀᴍᴀɢᴇ control towards those allegations aimed at this TLC reality mom.
Will Janelle Brown Be Present For The Birth Of Maddie's Baby?
Sister Wives star Janelle Brown is wowing on Instagram in a recent video. She is strutting her stuff and showing fans how great weight loss can look. Keep reading for all the details and to see her transformation!
Janelle Brown melts her fat away
TLC star, Janelle Brown, has been working hard to have a total body transformation – and it seems to be working! It's working so well, in fact, she even owns her own Plexus company now. In a new clip shared on Instagram, Janelle struts her stuff and shows just how well the product works for her.
In the video, Janelle is walking towards the camera while wearing a long-sleeve, black top with a v-neckline. Despite the coziness of the top, Janelle's new hourglass figure really shines through. Her big bust accentuates just how tiny her waist has gotten. While Janelle walks, she has a massive smile on her face – clearly, very proud of herself. Even her face has slimmed down majorly, making her smile even brighter.
She finishes off the amazing look with some big, flirty hoops.
Everyone seems obsessed
Of course, Janelle has a whole army rooting her on in the comments section, praising her for her tiny figure. Some are even comparing her to Marilyn Monroe with her great figure and her blonde hair.
"Janelle you have movie star looks Like you look kinda like Marilyn Monroe. Keep going girl boss," the internet user writes.
Others join in with just as much admiration for the Sister Wives star's drive and passion to getting smaller. Despite the fact that Janelle's former sister wife, Christine, is also featured in the video, all eyes seem to be on Janelle.
"Look great Janelle 👏"
"Janelle!!!! You look so happy and … you have always been so beautiful but your glow is so much brighter!!""Janelle you look amazing. ❤️"
"Wow Janelle,you are looking fabulous 😮😍"
"Janelle, you look amazing 🙌 "
It seems as though Janelle is really putting her best foot forward and is excited to show off her hard work. This is probably a breath of fresh air for the star after the last couple of years her family has had.
Do you follow Janelle Brown on social media? What do you think of her new look? Let us know in the comments below. Come back to TV Shows Ace for more updates on all of your favorite reality TV stars.