General Hospital (GH) spoilers and updates tease that after talking to Olivia Quartermaine (Lisa LoCicero) about making up with Carly Spencer (Laura Wright) Drew makes it clear. It's devastating to Carly, but Drew is quite sure he doesn't want to be involved anymore with a lying liar who lies!
General Hospital Spoilers – Drew Cain Feels Duped
Overall, Drew has felt duped by Carly since she admitted she had kept secret the fact that the DNA test he helped her get the DNA for showed a match. He'd caught her red-handed in Charlie's Pub swiping a glass recently drank from by Nina Reeves (Cynthia Watros) and wanted to know why. She told him Harmony Miller (Inga Cadranel) had told her on her ᴅᴇᴀᴛʜʙᴇᴅ that Nina was Willow Tait's (Katelyn MacMullen) mother and she wanted verification.
Drew was on board, and helped her get something with Willow's DNA on it from the Quartermaine gatehouse where she was living with Michael Corinthos (Chad Duell). She promised to tell him the results from the DNA test whether they showed a match or not, and she lied-and she sabotaged his recent searches for Willow's parents.
GH Spoilers – Carly Spencer Continues To Want To Make Amends
Carly continues to want to make amends and make up with Drew, but all he's hearing are excuses-she wasn't trying to protect Willow, she was protecting herself. Carly played god with Willow's life, not giving her the information to decide herself about Nina's being her birth mother, deeming her grudge against Nina being more important. Carly has now heard this same assessment from Drew, even from Michael, and certainly from her ex-husband Sonny Corinthos (Maurice Benard). True, Nina should have told Carly that Sonny was alive, albeit amnesiac in Nixon Falls, but Nina maintained she tried to tell her and Carly blew her off. There are no problems believing that narrative on Drew's part and certainly not on Sonny's!
General Hospital Spoilers – A New Carly Spencer?-Same Old, Same Old
When they were in Jacksonville together, both Carly and Drew felt there would be a new Carly and her old way of feeling, reacting and acting would be changed. Instead, she's proven herself to be the same old Carly she's always been, although maybe not quite as manipulative as when she first came to Port Charles. Drew has a serious talk with Carly after Olivia's attempt to get them back together.
Drew tells her no dice – she has proven herself a liar several times over, and not only that, a manipulative liar. One thing he doesn't want is to be involved, especially not seriously involved, with a lying liar who lies!
GH Spoilers: Dex's Biological Father Revealed – Dante Dad sʜᴏᴄᴋᴇʀ Gives Sonny New Grandson?
General Hospital (GH) spoilers tease that many fans are eager to find out more info on Dex Heller's (Evan Hofer) history. Dex has opened up a bit about his problematic siblings, but he could use some onscreen relatives in Port Charles.
Of course, most new GH characters get a biological connection to someone on canvas eventually.
Perhaps Dex could be the next character facing a bio dad reveal. If Dex is the long-lost child of someone we already know, who could it be?
Sonny honestly has more than enough children, so there's no need to give him another one!
However, it would make sense to make Dex related to Sonny since he's become such a traitor.
That might be the only thing that will spare Dex's life once the truth about his betrayal comes out. Sonny may find himself ready to ᴍᴜʀᴅᴇʀ Dex – only to find out they have a blood link!
An easy way to make that happen would be to make Dex the son of Dante Falconeri (Dominic Zamprogna), which would also make him Sonny's grandson.
Dante has certainly pestered Dex about the torture he endured and seems torn about letting Sonny slide.
Since Dante will likely arrest Sonny after the takedown Dex pulls off for Michael Corinthos (Chad Duell), it could be the prime setup for a long-lost son bombshell.
Dante is quite tangled up in all this, so it might be leading somewhere.
That's especially true after an intriguing comment Sonny made to Dex on the January 23 episode.
When Dex tried to come barging in on Sonny's conversation with Spencer Cassadine (Nicholas Chavez), Sonny forced him to wait.
Dex got a reminder that family came first, but what if Dex is family, too?
Spencer hates Dex's guts and doesn't trust him, but he may have to get used to the guy.
If Dex is Dante's long-lost son, then Sonny may forgive and accept Dex sooner or later.
Sonny always protects his family, so things could get complicated if Dex ultimately falls under that circle of protection.
It could force Sonny to get past this betrayal in the end, so we'll share updates on Dex's potential bio dad as this GH storyline moves along.
General Hospital spoilers say Dex could use more connections in PC, so could Dante be revealed as his biological father?
GH Spoilers: Britt's Funeral Brings sʜᴏᴄᴋᴇʀs – Brad, Spencer & Liesl's Bold Moves
General Hospital (GH) spoilers tease that it'll be time to say a final goodbye to Britt Westbourne (Kelly Thiebaud) soon. There's been a lot of other drama going on due to Nina Reeves' (Cynthia Watros) bio mom sʜᴏᴄᴋᴇʀ and Willow Tait's (Katelyn MacMullen) ꜰɪɢʜᴛ ᴛᴏ sᴜʀᴠɪᴠᴇ, but Britt deserves a proper farewell.
Fortunately, Britt will indeed get one on February 2. That's when many of Britt's friends and family members will come together for a memorial service.
Britt ᴅɪᴇᴅ tragically after "The Hook" nicked her with a venom-soaked weapon, but at least Liesl Obrecht (Kathleen Gati) was there with her in those final moments.
Since Britt saved Josslyn Jacks' (Eden McCoy) life, she ᴅɪᴇᴅ a hero and surely had no regrets about that.
Now that Britt's passed on, we have to consider how the news of her ᴅᴇᴀᴛʜ will affect those closest to her.
A few of Britt's loved ones will end up making bold moves right around the time of her funeral, so it may serve as a catalyst for their actions.
GH spoilers say Brad Cooper (Parry Shen) will have a special request for Selina Wu (Lydia Look), so that could tie in with Britt somehow.
It's possible Brad will want out of his mob arrangement with Selina or that he'll at least want to alter it so he has more control of his life.
Then again, Brad might seek Selina's help honoring Britt's memory in some way.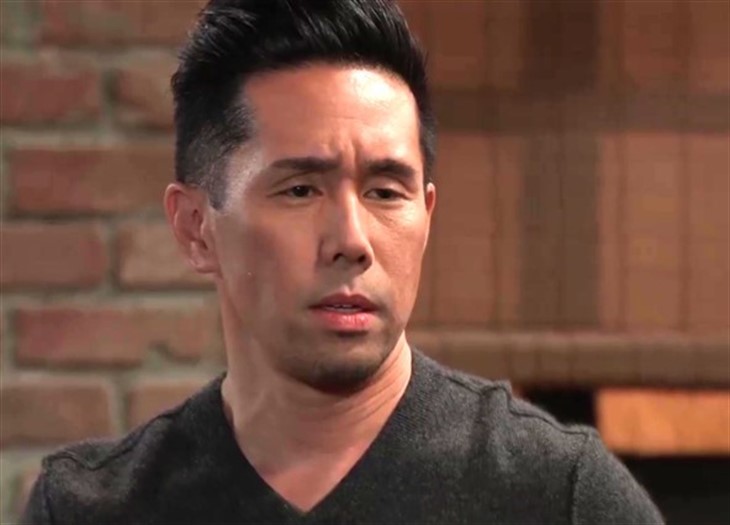 Since Brad's getting a hefty inheritance due to Britt's will, he may put that money to good use on something that'll give back to the community.
Perhaps there'll be some strings Selina can pull to move Brad's project along. Regardless, Brad will do something important once Britt is laid to rest.
Spencer Cassadine (Nicholas Chavez) will also make a sʜᴏᴄᴋɪɴɢ ᴀɴɴᴏᴜɴᴄᴇᴍᴇɴᴛ after the memorial service is over, so he may find strength in Britt's memory.
It could give Spencer the courage to take the next custody step and stand firmly against Nikolas.
Britt's service could also affect Liesl Obrecht (Kathleen Gati) if it reminds her of how much she's lost and leaves her feeling even more vengeful!
General Hospital spoilers say there'll be ways for Britt's funeral to change the course of several lives, so stay tuned for updates on this tough GH goodbye.