General Hospital (GH) spoilers for the week of January 30-February 3 tease that Nina Reeves (Cynthia Watros) will learn a huge secret after witnessing something surprising. That could mean Nina will catch a glimpse of Dex Heller (Evan Hofer) looking cozy with Josslyn Jacks (Eden McCoy) and realize they're romantically involved.
If Nina fills Sonny Corinthos (Maurice Benard) in, that could alert him to Dex's deception.
It might leave Sonny wondering what else Dex has been lying about – though he may be wondering that already since his concerns seem to be on the rise.
In the meantime, Sonny will extend his support to Michael Corinthos (Chad Duell) at the hospital.
Will Michael appreciate the gesture and waver on his takedown plan or keep moving full-speed ahead?
Next, Curtis Ashford (Donnell Turner) will give Marshall Ashford (Robert Gossett) a pep talk, so he should hope to convince him that genetic testing and a mental evaluation are the right call.
Over with suspicious Stella Henry (Vernee Watson), she'll find herself feeling conflicted, but she'll ultimately decide she has to uncover the truth.
It sounds like Stella will get some hints regarding Trina Robinson's (Tabyana Ali) paternity and perhaps decide to dig deeper.
Other GH spoilers say Carolyn Webber (Denise Crosby) will rip into Nikolas Cassadine (Marcus Coloma) once again.
If Nikolas tries another tactic to coerce Carolyn into suppressing Esme Prince's (Avery Pohl) memories, that might give her another reason to lash out.
Carolyn may stand her ground since she'll ultimately deliver a warning to Elizabeth Baldwin (Rebecca Herbst).
Liz should be appalled when she learns the lengths Nikolas is going to and resolve to give him a piece of her mind.
Of course, we should mention the tricky Nikolas casting situation since Marcus Coloma will last air in January.
The transition to a temporary Nik recast is coming up soon, so Adam Huss may take over for Coloma by midweek.
Nikolas will eventually head to Spring Ridge, where he'll visit Esme and risk her memories returning in the process.
Esme will chat with Nikolas and see if she can summon anything to the surface.
Back at GH, Elizabeth will do some surgery prep, so she'll make sure a patient is good to go.
That could be Willow Tait (Katelyn MacMullen) going in for a C-section ahead of a bone marrow donor transplant.
Michael will get some updates that worry him in the aftermath, so will Willow face some unexpected complications? Could the baby's life be in jeopardy, too?
Elsewhere, Britt Westbourne's (Kelly Thiebaud) friends and family members will gather for a memorial service, so that'll bring some tears and tributes.
Brad Cooper (Parry Shen) may come up with a special way to honor Britt since he'll turn to Selina Wu (Lydia Look) for a favor.
While Heather Webber (Alley Mills) does some more plotting, Elizabeth will seek out Hamilton Finn (Michael Easton) for a conversation.
That'll lead to some stunning news for Finn, so Liz may come clean about her fake affair and pretend pregnancy.
Of course, that could also lead to Liz admitting she helped Nikolas while he was keeping Esme hostage.
If Elizabeth makes a full confession, Finn may wonder why she went to all this trouble when she could've just trusted him with the truth from the start.
Liz will do her best to explain herself while Laura Collins (Genie Francis) delivers a sincere plea to Nikolas.
There'll also be a showdown for Laura to referee, but her efforts to bring some peace to the Cassadine clan may end in catastrophe.
Spencer Cassadine (Nicholas Chavez) will make a big announcement, so that may involve his custody pursuit plans and how he intends to make sure his sibling grows up without the overwhelming fear of betrayal.
Finally, Blaze (Jacqueline Grace Lopez) will open up to Harrison Chase (Josh Swickard), so they may get closer while Brook Lynn Quartermaine (Amanda Setton) battles jealousy nearby.
General Hospital spoilers say Brook Lynn isn't ready to give up on a future with Chase yet, but she won't like it if Blaze becomes legitimate competition.
General Hospital Spoilers: Olivia Counsels Drew, Can He Forgive Carly For Her Manipulations?
General Hospital spoilers and updates tease that Olivia Falconeri (Lisa LoCicero) will counsel Drew Cain (Cameron Mathison). They'll talk about his breakup with Carly Spencer (Laura Wright) – Olivia obviously knowing they were involved – but can he forgive Carly for her machinations?
General Hospital Spoilers: Drew Cain Feels A Bit Like A Chump
Drew feels a bit like a chump that he let himself get starry eyed and stupid over Carly after convincing himself he wasn't just a substitute for Jason Morgan (Steve Burton). Well, at least he knows that wasn't the case because Carly would have never lied to Jason or sabotaged Jason like she did him over Willow Tait's (Katelyn MacMullen) parentage. He is still reeling from Carly's admission she paid Denise Macenzie (Alice Rietveld) to lie and sabotaged his search for Josiah Black (Allen Marsh) the cult leader.
Even more, he's reeling from the fact that Carly promised him the truth when months ago, shortly after Harmony Miller (Inga Cadranel) ᴅɪᴇᴅ he helped her get Willow's DNA. He caught her in Charlie's Pub stealing a glass Nina Reeves (Cynthia Watros) had drank out of and demanded an explanation and she lied that Willow and Nina weren't a match!
GH Spoilers: Olivia Quartermaine Tries To Fix It
Olivia, Carly's longtime friend and one time partner in the Metro Court hotel, as well as being Drew's cousin-in-law tries to fix it for Carly, counseling Drew to forgive her. Carly still maintains she did the right thing by keeping the secret until finding out Willow needed bone marrow and Nina to donate. But Drew, as well as even her own son Michael Corinthos (Chad Duell) sees the wrong in that motivation – Willow should have been told the truth.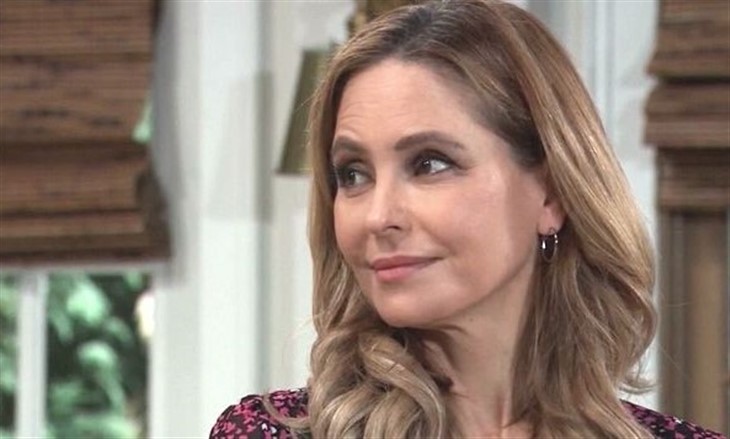 Carly played god with Willow's life in not giving her the option to decide what she wanted to do with the information, instead making the decision not to tell. To Drew, it's almost like being controlled by that brain chip Helena Cassadine (Constance Towers) had put in his brain all those years ago, calling him her "toy soldier".
General Hospital Spoilers: Drew Cain Has To Think About This
Drew tells Olivia he will have to think about this – although he may wind up not having to think about it very much! Drew doesn't remember a lot of his past and what he does remember is all confused with Jason's, due to the memory mapping process. But he does remember not being keen on his own situations being controlled by others and him not being given a choice in the matter.
He also remembers when he lost his son Oscar Nero (Garren Lake Stitt) to a brain tumor and his mother Kim Nero's (Tamara Braun) trying to control him afterwards. She even drugged him trying to force him to make a new baby with her and while Carly's not that manipulative, she's close-and not having a mental breakdown like Kim.
Be sure to catch up on everything happening with GH right now. Come back here often for General Hospital spoilers, news, and updates.