General Hospital spoilers and updates tease after Trina Robinson's (Tabyana Ali) birth father reveal, all bets are off and she and Spencer Cassadine (Nicholas Alexander Chavez) hit the sheets! Since Trina's mother, Portia Robinson (Brook Kerr) didn't mind lying to Trina about her birth father being Curtis Ashford (Donnell Turner) she won't mind hooking up with someone Portia hates!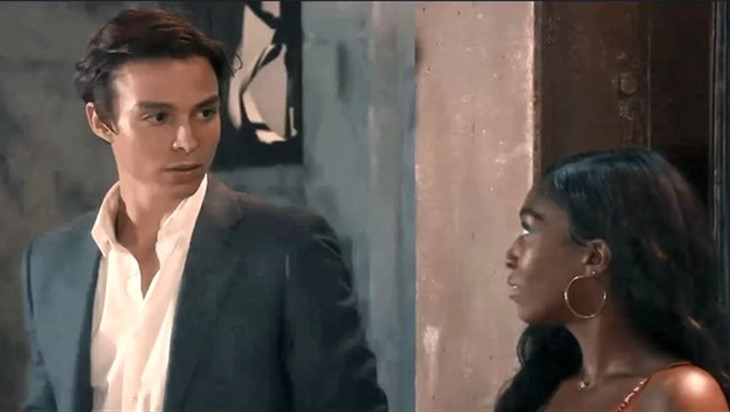 General Hospital Spoilers: Portia Robinson Lied To Curtis Ashford
When Portia and Curtis reconnected a couple of years ago, Curtis asked Portia right away if Trina was his, considering the timeframe of their long ago affair. Portia told him no, with certainty, and that was that-it had been Curtis who dumped her after finding out she was married to Marcus Taggert (Réal Andrews). So, while Portia may not really know for sure because no paternity test was ever done, she's now acting like she knows Trina's his, and so she lied.
It would really be a simple thing for Portia to do the same thing Carly Spencer (Laura Wright) did with Willow Tait's (Katelyn MacMullen) and Nina Reeves' (Cynthia Watros) DNA. She's a doctor, she could run the test herself and then she'd know for sure, but she acts like she'd rather not know for some inexplicable reason.
GH Spoilers: Suspicious Stella Henry Checks It Out
According to GH spoilers, Curtis' Aunt Stella Henry (Vernée Watson) already has her suspicions, and likely has ever since she did a DNA test back a few years ago; she claimed she found a cousin. This was about the same time Trina also did an ancestry project for a class, but she never thought about the results of her father being in Port Charles. Both Curtis and Marcus were in town at the time, and she had no reason to ever doubt her paternity, but it sounds like Stella's test revealed more details.
That is likely why Stella made up that cousin she went on a European trip with around that time, and did some other sketchy things too like swiping those divorce papers. She and Trina didn't know each other that well, but maybe she wanted to spare the young teenager a who's my daddy drama, especially after Taggart faked his ᴅᴇᴀᴛʜ.
General Hospital Spoilers: Valentine's Day Weddings Never Work
It's really odd that Curtis and Portia decided to marry on Valentine's Day since Curtis and Jordan Ashford (Tanisha Harper) did too, as badly as their wedding night was. Curtis and Jordan found Kiki Jerome's (Hayley Erin) ᴅᴇᴀᴅ body dressed in a wedding dress in their ʜᴏɴᴇʏᴍᴏᴏɴ ʙᴇᴅ, a ᴠɪᴄᴛɪᴍof Ryan Chamberlain (Jon Lindstrom). But then weddings complete in Port Charles about as often as the Quartermaines get a turkey dinner for Thanksgiving, no matter who the bride and groom are.
Taggert tells Curtis that he's not Trina's father. Portia looks guilty #Sprina #GH pic.twitter.com/Ivcqz1fCvn

— LMMN 🕊️🕊️ (@lmmn41) January 16, 2023
Chances are, the secret will come out at the wedding, and Trina will be livid at Portia. So instead of Portia and Curtis in this honeymoon bed, it might be Trina and Spencer, with Trina lashing out at her mom like Spencer has at his dad.
GH Spoilers: Willow's Ticking ʙᴏᴍʙ, Nina Devastated!
General Hospital preview video for the week of January 23-27, 2023, reveal that Willow's health will further deteriorate. So, she will now have to make a quick decision regarding her delivery. As for Michael, will also decide to help Willow in her decision along with doctor. In the meantime, Sasha will be there to support Michael. Nina will also get some devastating news, and Sonny will worry about her. Keep reading to know what GH has in store for the viewers this week.
Willow Makes A Major Decision
The preview video starts with Willow sharing how much scared she is with everything going on. General Hospital spoilers say Willow's health will further deteriorate, which will become a huge concern. The doctors will advise Willow to make the decision faster. She will have to decide whether to induce pain and deliver or to get a c-section. Whatever she decides, she will need to be quick.
The clips also show Michael panicking when he asks the doctor to deliver the baby now! Sasha will be there to support Michael and worry about what will happen to the baby. The spoilers tease there will be some complications during the birth, but both Willow and Baby will be safe later. After the baby is out, Willow will now have to undergo bone marrow transplant treatment.
General Hospital Spoilers: Is Nina Not The Match?
The second half of the clip shows how everyone is sʜᴏᴄᴋᴇᴅ, especially Nina, who is devastated. Fans know that Nina was expected to be the bone marrow match. Brook Lynn is seen saying how devastating things keep happening to them. Since Nina is seen losing control of her composure, and Sonny consoles her. Does that mean her bone marrow didn't match Willow's? However, the chance of parents having similar bone marrow to their children is rare. So, chances are there that Nina might not be the match. What will Willow do now?
Finally, Olivia has some quality advice to give to Drew. She may ask him to give Carly another chance. Whatever she did wasn't intentional but just wanted to save Willow from Nina. As for Drew, will he want to give it another chance to Carly? Comment down your opinion below, and do not forget to watch the preview video.
"Devastating things keep happening… " #GH pic.twitter.com/he1Ow5Nnol

— General Hospital (@GeneralHospital) January 23, 2023
General Hospital: EXES REUNITE, Sam And Drew Come Together
The latest General Hospital spoilers tease that Sam and Drew fans might just see their DREAM coming true soon on the ABC soap. Carly and Drew had a major showdown recently, and Drew is epically pissed at her. For all the right reasons, of course! Does that mean the end of their relationship is near? Moreover, could that lead Drew and Sam to reignite their old passions? After all, Sam to is about to taste a similar fate as Drew soon at Dante's hands! Keep reading to find out how all the pieces could fall together!
The Iceberg Of Lies Hits The Love Boats On General Hospital
Drew is in no mood to entertain Cary at the moment on General Hospital. He is furious at her for lying to him about Nina being Willow's birth mother. Moreover, she constantly schemed to throw a wrench in Drew's attempts to locate Willow's biological family. We can't really blame Drew for not wanting to be involved in Carly's manipulative ways. Besides, this is not the first time she has done it, and Drew knows it! However, Carly still wants to save their relationship, and Michael is rooting for her! But in complete honesty, their relationship seems doomed! Even if Drew agrees to forgive Carly, can he actually have a relationship with her?
Trust is a fragile thing, and Carly has shattered Drew's brutally on General Hospital. Drew will always see that betrayal hanging on their heads every time he is with Carly. That's a kind of weight one can't pull for too long. He might soon start feeling unfulfilled and look elsewhere for solace. It won't be too surprising if he starts confiding in his former flame, Sam. They have been pretty cordial on General Hospital. Besides, Sam is soon going to face similar circumstances as Drew. Dante is keeping secrets from Sam, and she can feel it. While Dante's secrets have nothing to do with Sam, he is still not being honest with her. Eventually, it could create distance between the couple and push her toward Drew.
Former Lovers Reignite Flame On General Hospital
Sam and Dante seemed like a rather sᴛᴀʙʟᴇ couple on General Hospital. However, the popular ABC soap isn't exactly famous for healthy and sᴛᴀʙʟᴇ relationships. But then, which soap is? The whole soap universe thrives on complicated love and forever-changing dynamics. So, any couple that seems healthy and sᴛᴀʙʟᴇ from the word go, is perpetually doomed! Now that Carly's secret-keeping has effectively ʙᴏᴍʙᴇᴅ her relationship with Drew, Dante and Sam will soon follow suit. Obviously, the next logical course of the tale would be for the heartbroken to connect on common ground!
Sam and Drew might start confiding in each other and soon realize that they are drifting away from their partners and toward each other on General Hospital. They were a popular couple back in the day, and their magic is still fresh in the minds of their fans. Hence, it's totally plausible that their old spark will return, and they will fall for each other all over again! Ever since Drew returned to Port Charles, fans had been rooting for his reunion with Sam. And from where we stand, it looks like they are about to get their DREAM couple! Have you been shipping Sam and Drew too? Please share with us in the comments. Meanwhile, stay tuned to General Hospital to find out what happens next.