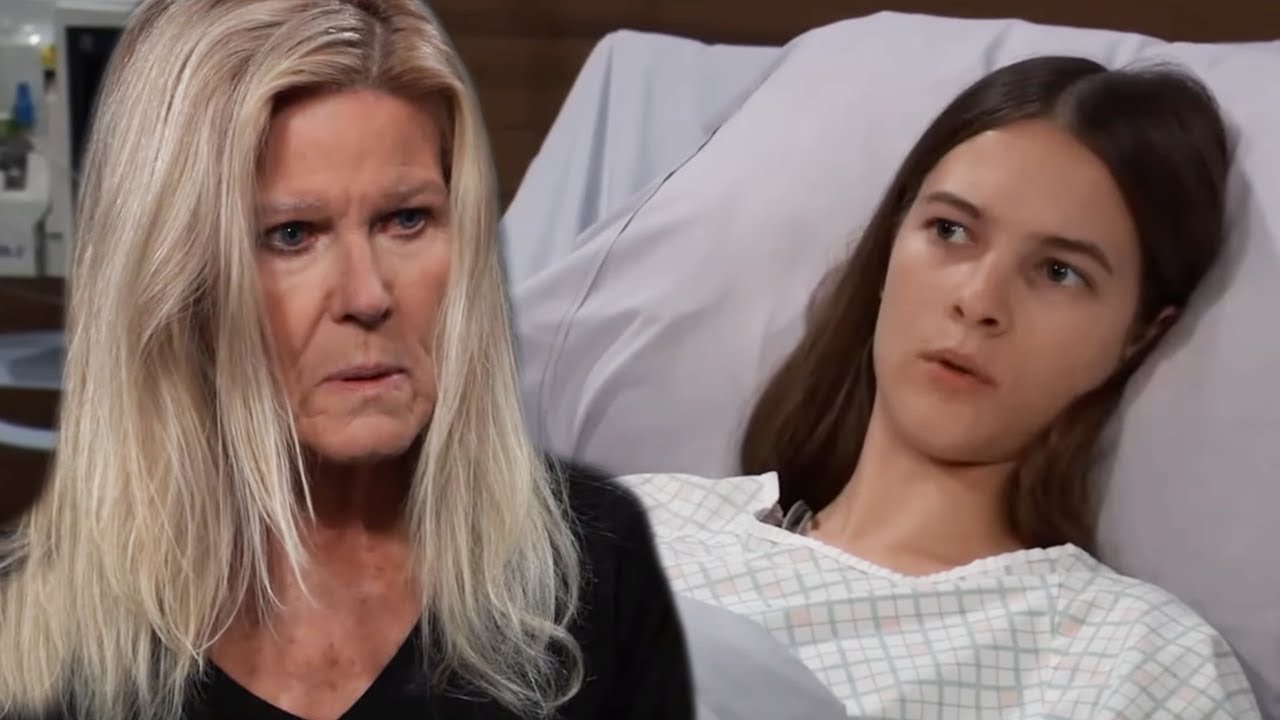 General Hospital's Heather Webber may turn out to be Esme Prince's nanny, Maggie Fitzgerald. And the pregnant villainess could be in for one heck of a sʜᴏᴄᴋ when her memory returns on the ABC sudser.
General Hospital: Heather Webber Mama of Esme Prince
Recently, on GH, it came out that Heather Webber (Alley Mills) is Esme Prince's (Avery Kristen Pohl) mother. Of course, for a long time, fans knew that her father was infamous serial slayer Ryan Chamberlain (Jon Lindstrom).
But her mother remained a mystery. Ryan promised his evil daughter they would find her mom together after their plan was complete. But then, Esme went missing, and her bio mom fell right into Ryan's lap. Now it's clear that she is Heather Webber's daughter.
Heather led Ryan to believe that she has never had contact with her daughter since giving her up years ago. But, of course, Ryan suspects otherwise. And there's a good chance she is closer to their daughter than he knows.
Esme's Bond with Maggie on GH
One thing we know about Esme is that she was adopted into a wealthy family as a baby. As a result, she had every material thing she could ever want. However, the one thing her adoptive parents did not give her was love, recall General Hospital recaps.
They hired a nanny named Maggie Fitzgerald to look after her daily. Esme became extremely close with Maggie. Then, her parents ᴅɪᴇᴅ, and she was never close to her adoptive siblings. So, Maggie was the only family she had.
Esme reads more of Maggie's letter. Maggie writes she's glad Esme is NOT pursuing a relationship with her father (so Maggie KNOWS about Ryan?). A single tear falls down Esme's face. She goes and reads more letters. #GH #GeneralHospital

— J Bernard Jones (@JBernardJones) May 9, 2022
Eventually, she went to boarding school in France. But she and Maggie always wrote letters to each other to keep in touch.
And Maggie urged Esme not to look for her birth father. So now that we know Heather is her birth mother, it's starting to look like she is also the nanny.
Heather, is Maggie on General Hospital?
Currently, Esme is in Spring Ridge with Heather Webber and psycho Ryan. However, Ryan has no idea his daughter is right under his nose — and Heather plans to keep it that way. The young she-villain has no memory of her past.
So, she doesn't remember that Ryan is her father. And her new friend wants her to steer clear of him. No doubt, she wants her daughter to herself — but there could be more to it on General Hospital.
When she first saw Esme at Spring Ridge, the teen told her she had lost her memory. Then, Heather said, "that explains it." She likely expected the teen to recognize her — as Maggie.
Esme's put off my how hard new "friend" Heather is trying and wants her room ready so she can get away. #GH pic.twitter.com/uxGLTXeieI

— Alli 🕊️❄️💞🕊️ (@Here4Sprina) January 18, 2023
Back in the day, she may have gotten the job as the nanny under the name Maggie Fitzgerald. That way, she could be with her child and take part in raising her.
And when Esme gets her memory back, she will be stunned to see "Maggie." And then it may come out that the legacy villainess had a relationship with the psycho teen during her childhood. No doubt, Ryan will be livid.
Currently, Sam McCall (Kelly Monaco) is trying to find this mysterious nanny. And General Hospital spoilers confirm Sam will find a piece of the puzzle soon. So, she may find out Maggie is none other than Heather Webber.
GH is full of sʜᴏᴄᴋᴇʀs. Don't miss it to see if Esme's memory returns and reveals that Heather and Maggie are one and the same on the ABC soap. It's sure to be explosive.
Get all the latest General Hospital spoilers and updates daily from Soap Dirt.