General Hospital (GH) spoilers for Tuesday, January 24, tease that Anna Devane (Finola Hughes) and Valentin Cassadine (James Patrick Stuart) will continue their mission to find Lucy Coe (Lynn Herring).
There'll be some new places to explore along the way, but Anna will just hope they have enough time to find Lucy before it's too late.
Unfortunately, Rene (Maria Tornberg) shouldn't be trusted since she's willing to sell Anna and Valentin out to Victor Cassadine (Charles Shaughnessy).
Although Valentin and Anna believe Rene could be their only hope to navigate through the compound, her betrayal should make their mission even more difficult.
Back in Port Charles, Elizabeth Baldwin (Rebecca Herbst) will open up to Laura Collins (Genie Francis) about her trust issues when it comes to Carolyn Webber (Denise Crosby).
Laura will understand considering everything Liz has been through and will admit to her own concerns about Nikolas Cassadine (Marcus Coloma).
It seems like Nikolas is constantly finding new unpleasant ways to surprise Laura, so trust is a problem for her, too.
At Wyndemere, Carolyn just showed up after being summoned by Nikolas.
Tuesday's GH preview video shows Nikolas insisting that Carolyn will do exactly what he says – that is if she wants to keep Elizabeth out of an even bigger mess!
Nikolas won't divulge the whole truth, but he'll spill enough for Carolyn to know Liz could be facing legal ramifications.
Perhaps Nikolas will warn that Carolyn's grandkids could watch their mother land in prison if things head south.
Whatever the case, Nikolas will make it clear that the stakes are high and push Carolyn to make sure Esme Prince's (Avery Pohl) amnesia sticks.
Nik will want Carolyn to use some of the same mind tricks she used on Elizabeth to help her repress her trauma all those years ago.
Over with Maxie Jones (Kirsten Storms), she'll get updates on something that sets off alarm bells.
Maxie will find out some news from Sam McCall (Kelly Monaco) and panic a bit as a result.
Now that Sam is looking into Esme's background and more involved in "The Hook" case, that could leave Maxie fearful.
Maxie might worry that if Sam gets too close to the truth, she could become the next ᴠɪᴄᴛɪᴍ.
Next, Josslyn Jacks (Eden McCoy) will keep pressuring Cameron Webber (William Lipton) to keep his mouth shut about her romance with Dex Heller (Evan Hofer).
Since Josslyn will be afraid of what Sonny Corinthos (Maurice Benard) might do, she'll hope Cam will stay quiet.
As for Dex, he'll make some form of a confession to Sonny – though he obviously won't tell the whole story.
Dex may admit to shooting "The Hook" and saving Josslyn, but it looks like he'll continue to keep their romantic involvement under wraps.
After Sonny hears Dex's latest admission, he'll offer a warning.
Sonny will insist this doesn't let Dex off the hook and will perhaps expect him to do a better job of keeping his boss in the loop.
General Hospital spoilers say Dex will have to be careful since he's juggling so many secrets, including the fact that he's working with Michael Corinthos (Chad Duell) to bring Sonny down!
GH February Sweeps 2023: Willow FORGIVES Nina, Nikolas Escapes Town?
General Hospital February sweeps 2023 reveal that Willow might take some time but will eventually forgive her mother. That certainly won't be applicable to Michael, who won't want to forgive Nina for her past deeds. Over with Anna and Valentin, their search for Lucy will lead them to a new place where Rene will join them in their mission. As for Anna, she will have some trust issues with Rene. Who is this, Rene, and where are Anna and Valentine? Keep reading and find out what GH has in store for the viewers.
Nikolas Escapes The Town?
First, Nikolas knows that he is already in huge trouble, so he will seek some help from Laura. General Hospital spoilers say Laura will have a bad update for him in the coming weeks. Looks like Ava and Victor will make a ᴅᴀɴɢᴇʀᴏᴜs move putting Nikolas in more trouble. This might either be about Esme's baby or his confession of trying to ᴋɪʟʟ Esme. Whatever it is, Nikolas will surely feel that his walls are closing and make a major decision because of it.
GH/Nikolas (Marcus Coloma) informs Laura about his ᴄʀɪᴍᴇ
Of course, he won't want to end up in prison for a ᴍᴜʀᴅᴇʀ ᴀᴛᴛᴇᴍᴘᴛ and kidnapping Esme. So, he may choose to escape the town. It will be interesting to see whether he escapes or land in jail. While Victor is targeting Nikolas, Valentin will reach Victor's office. Their search for Lucy will bring them to Paris. Valentin will call in his former ally, Rene. Anna will have trust issues on her and will wonder if including her in the team is the right thing to do.
General Hospital Spoilers: Willow To Forgive Nina?
Coming up next, Willow and Michael already made it clear to Nina that they will never forgive her for her past deeds. General Hospital spoilers suggest Willow might not accept her mother for now, but their bickering won't last longer. Even if she fights and lashes out at Nina, Willow is very forgiving
from the heart, so she will eventually forgive her.
GH/Willow (Katelyn MacMullen) to forgive Nina?
However, this life-saving bone marrow transplant might be the right start for their bond to grow. Nina will be ready to give Willow as much time as she needs to but will only hope to end their enmity. On the other end, Carly will still continue to face the music. Sonny will accuse her of taking ʀᴇᴠᴇɴɢᴇ on Nina for such a sensitive issue. Fans know that Carly just wanted to save Willow. Michael will also be upset with her since it was Willow's decision to be with Nina or not. Carly is not the right person to make a decision for her.
Ryan Warns Heather
At Spring Ridge, Ryan will have another disagreement with Heather. General Hospital spoilers say it might involve her next move to target someone in town. He will warn her to watch her step since he will be feared of getting caught. If Heather lands in jail, Ryan will also go down
with her. Although both had plans of building a family together, Heather will witness his evil side. He still is that ᴅᴀɴɢᴇʀᴏᴜs person from within, even if he talks about children and family.
GH/Ryan (Jon Lindstrom) asks Heather to watch her steps
Finally, Cameron will witness something upsetting. So, chances are there, he might see Josslyn and Dex kissing each other. It will definitely break his heart if he finds that Joss cheated on him when she was in relationship with him.
GH Two Week Spoilers: Spencer Launches Sneaky Plot, Willow Faces Big Choice!
General Hospital two-week spoilers show Spencer Cassadine puts a life-changing plan into action in the two weeks of January 16-27, 2023.
Also, someone struggles and another faces a major choice on GH. Take a look at what to expect over the next two weeks on the ABC sudser.
General Hospital Two-Week Spoilers: Spencer Cassadine Takes Action
Coming up on GH, Spencer Cassadine (Nicholas Chavez) works on a plan to protect his unborn sibling. Spencer feels his father, Nikolas Cassadine (Marcus Coloma), is unfit to parent the child.
Of course, he feels the same about Esme Prince (Avery Kristen Pohl). So, Spencer takes matters into his own hands. And he vows that the baby will never know its birth parents. Soon, he meets with legal shark Diane Miller (Carolyn Hennesy).
So, it looks like Spencer may claim to be the father of Esme's baby on General Hospital. But then, Trina Robinson (Tabyana Ali) questions Spencer's true motives. Indeed, fans hope Spencer stays honest with Trina.
Later, Nik asks his mom, Laura Spencer (Genie Francis), for support. Then, he pleads his case. Also, Elizabeth Webber (Rebecca Herbst) is in sʜᴏᴄᴋ. And Laura is there for her. Later, Laura warns her brother Martin Gray (Michael E. Knight).
No doubt, she wants him to be careful going up against Victor Cassadine (Charles Shaughnessy). Then, Charlotte Cassadine (Amelie McClain) puts Vic on blast. Also, Laura gives bad news, and Vic is livid. Elsewhere, Ava Jerome (Maura West) claims what is hers.
Then, Spencer and a stunned Trina press Cameron Webber (William Lipton). Later, Ava connects with Austin Holt (Roger Howarth). Elsewhere, Dante Falconeri (Dominic Zamprogna) gives Heather Webber (Alley Mills) a push.
General Hospital Two-Week Spoilers: Drew Struggles with Next Steps
Also, next week, Drew Cain (Cameron Mathison) struggles. The aftermath of Carly Corinthos Spencer's (Laura Wright) secret is hard on him. Nina Reeves (Cynthia Watros) and a livid Willow Tait (Katelyn MacMullen) grapple with the truth. And Drew must decide if he can forgive Carly.
WATCH: Carly admits everything she's done to slow down or stop Drew's investigation into Willow's birth parents. #GH pic.twitter.com/Ui5Q0X4q6u

— General Hospital (@GeneralHospital) January 11, 2023
Also, on General Hospital, Olivia Falconeri (Lisa LoCicero) gives Drew advice. Later, he is clear about how he feels. So, he may end things with Carly for good.
Elsewhere, Sonny Corinthos (Maurice Benard) pressures Dex Heller (Evan Hofer). Then, Cody Bell (Josh Kelly) connects with someone. And Anna Devane (Finola Hughes) explores Paris. Plus, Valentin Cassadine (James Patrick Stuart) tries to explain.
GH Next Week Spoilers: Willow Faces Big Choice
General Hospital spoilers see that Willow must make a choice soon. And it may involve her ᴄᴀɴᴄᴇʀ treatment. However, it's more likely that it concerns her birth mother, Nina.
Before the big reveal, Nina and her secret daughter were as ᴛᴏxɪᴄ as you can get. So, it's doubtful that they'll form a mother-daughter bond. During the week after next, Nina confides in Sasha Gilmore (Sofia Mattsson).
Later, Nina gets a sʜᴏᴄᴋ. It's one wild twist after another right now on GH. Watch daily to see if Spencer Cassadine gets custody of his baby sibling on the ABC soap opera.
GH Spoilers: Lulu And Morgan On Their WAY BACK?
The dark cloud surrounding Port Charles is showing no sign of fading away any time soon. Since the soap is embroiled in sᴇᴠᴇʀᴀʟ ɢᴏʀʏ tales as of now, there is no scope for a light story to come forth. However, fans always seem to find a way to fit what they want in the ongoing plot. Recently, netizens have become of the opinion that General Hospital should bring back some of the past characters to shake things up a little. Two names that topped the list of fan recommendations were, Lulu Spencer and Morgan Corinthos.
It has been a while since the young ɢᴜɴs were spotted loitering the Port Charles pier on General Hospital. Of course, Lulu has a genuine reason for missing from the social scene. She has been in a coma at a special care facility away from home. The last time we saw Lulu on screen was in December 2020.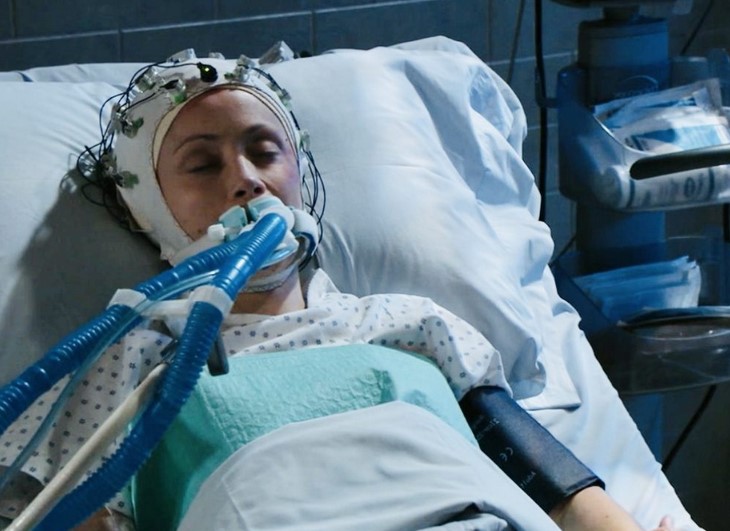 Actress Emme Rylan was portraying the character of Lulu back then. However, once Lulu slipped in her coma, the talented actress was let go from the soap, and Lulu has been getting treatment off-screen in the special care facility. Although, fans believe that it is time that she wakes up from her coma and returns home, and add some spice to the soap. They feel she will be a great third wheel in Sam and Dante's story.
Can Morgan Rise Back On General Hospital?
On the other hand, Morgan Corinthos was last seen back in 2018. On General Hospital, Morgan is the biological son of Sonny and Carly Corinthos. In a devastating storyline, Morgan was shown ᴅᴇᴀᴅ in General Hospital. However, we have been GH fans long enough to know that anyone can rise back from the ᴅᴇᴀᴅ if the storyline wishes them to. For a long while now, fans have been speculating that Morgan is in fact alive and can return at some point. Some even speculated that he will eventually be revealed as the Hook ᴋɪʟʟᴇʀ. But that didn't happen! However, there are plenty other ways to bring Morgan back.
The last time we saw Morgan Corinthos on General Hospital, he was being portrayed by actor Bryan Craig. The handsome actor had become the heartthrob of many fans for his role as Morgan. Thus, it really comes as no surprise that they are eager to have him back on the soap. Apart from face value, netizens propose that it makes a lot of sense to bring him back at this point. The soap is revolving around storylines concerning Sonny, Carly, Nina, and Michael. Morgan has an integral connection with all of them. So if there is a perfect time for his return, it is now!
What do you think? Would you like to see Lulu and Morgan back on General Hospital? If yes, how would like to see there comeback?