General Hospital (GH) spoilers tease that things seem to be looking up for Willow Tait (Katelyn MacMullen) right about now. GH fans know there were some scary moments in the OR, but Willow heard Michael Corinthos' (Chad Duell) voice and ultimately stepped away from the light.
Now Willow has another chance to be a mother and stick around for her family. Michael and Willow will remain hopeful about the stem cells being harvested from the umbilical cord and placenta.
A cord transplant is Willow's best option at this point according to Terry Randolph (Cassandra James), but she may deliver some difficult updates.
The outcome of all this apparently won't be what Terry was hoping for.
General Hospital spoilers say Michael and Willow will be over the moon about their new baby, but their blissful bubble will soon burst.
There'll be a change in Willow's prognosis that renews Willow's fears and perhaps leaves her worried she won't survive after all.
However, there could be an eleventh-hour savior for Willow.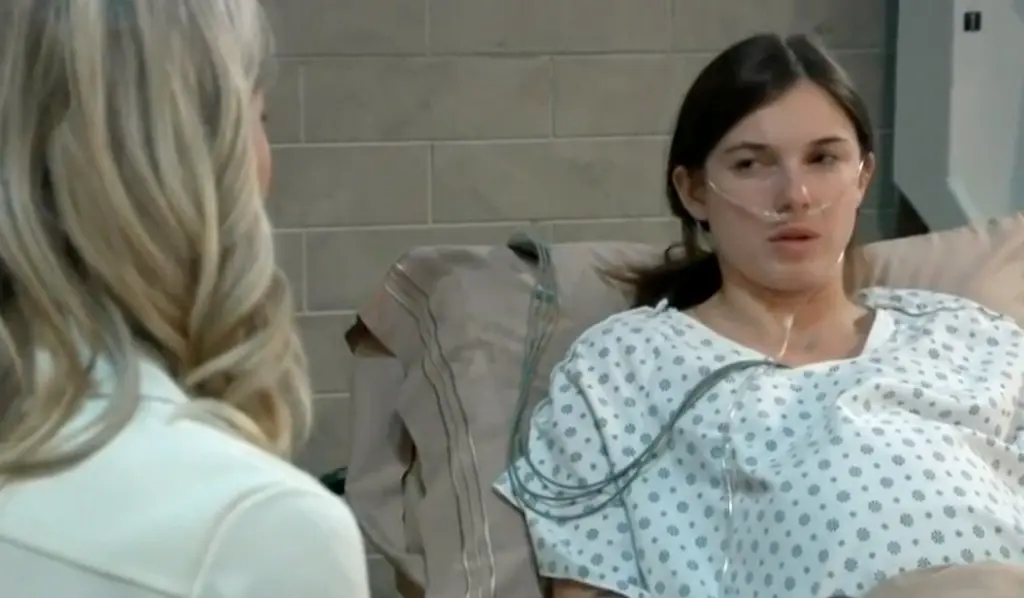 February sweeps spoilers point to Liesl Obrecht (Kathleen Gati) potentially having something that another PC resident is desperate for.
Since Willow is desperate for a bone marrow transplant and Liesl is her blood relative, it sounds like it all adds up to a bone marrow donor match.
Liesl will keep sleepwalking through life for a bit due to her grief, but maybe helping Nina Reeves' (Cynthia Watros) daughter could snap her out of it.
Obrecht couldn't save Britt Westbourne (Kelly Thiebaud) from a grim fate, but maybe she can spare Nina the pain of losing another child.
Willow and Nina would be eternally grateful to Liesl, who might be able to use her gift to bridge the gap.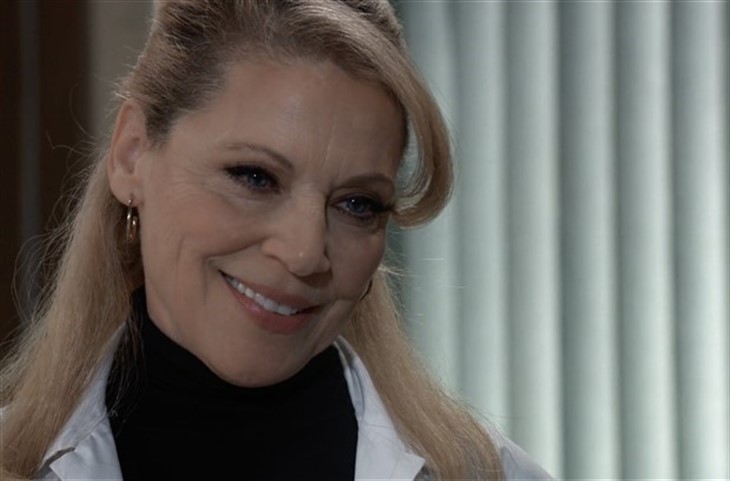 Perhaps Obrecht could convince Willow to give Nina another chance and let her prove she can be a good mom.
General Hospital spoilers say Willow's prognosis change will leave her sʜᴏᴄᴋᴇᴅ ᴀɴᴅ ꜰᴇᴀʀꜰᴜʟ, but Liesl's help could save the day soon enough.
If Obrecht is a bone marrow match, she'll have the opportunity to leap into action and offer life-saving assistance.
Willow's medical storyline will come with more twists and turns, so stay tuned!
GH Spoilers For The Week Of February 6-10, 2023: Nikolas BLACKMAILS Ava, Laura Is WORRIED!
General Hospital spoilers for the week of February 6-10, 2023, reveal that Laura will make a desperate plea to Spencer. So, she will ask him not to hand over the video to the cops. However, Nikolas will get details about the video and come to warn Ava. Over with Nina, she will ask Liesl to speak to Willow on behalf of her. She will make a peace offering to Willow and make things better with her. This offering is the half-heart necklace that Nina has with her. Will she be willing to accept her gift? Keep reading to know what is to happen in the coming week in GH.
Nina Asks Liesl For Help
First in the week of February 6-10, 2023, Sonny will be upset that Michael is going through many problems and not letting him in on anything. The more he feels distant, the more he will realize how their bond has broken beyond repair. General Hospital spoilers reveal that Nina will also be facing the same issue. Looks like Nina will want Liesl to help her out. Now that Willow has given birth and is doing well, she would like to meet her once and sort things out.
As for Liesl, even though she may not want to interfere in someone else's business, she'll be willing to do that for Nina. Just a few days back, Liesl lost her daughter, so she will understand what Nina is going through. Life is too short for holding grudges, so she will decide to talk to Willow on Nina's behalf. Later, Nina may hand over a half-heart pendant to Willow. So, we have to see whether Willow is willing to accept the token of love or not.
General Hospital Spoilers: Laura Makes A Desperate Plea
Next, Laura will deliver a desperate plea to Spencer. Fans know that he and Trina have seen Nikolas' confession video. General Hospital spoilers reveal that Laura won't want Spencer to hand over the video to the cops. Spencer certainly is not willing to do that, rather, he is planning to blackmail him when it's the right time. Later, Ava will have a conversation with Laura and will offer reassurance even though she doesn't mean it.
As for Nikolas, he corner Ava and warn her. He will tell her that if he goes to prison, he'll make sure Ava goes with him. Fans know that Nikolas wasn't the one who pushed Esme from the parapet; it was Ava. She was the one who recorded his video as proof of his loyalty. So, he'll remind Ava of that. In the meantime, Finn will also warn Liz to watch her steps. Once Nikolas lands in jail, cops will come for her as well. Over with Austin, he'll listen to Ava's problem and might also give her some advice. This will lead to both of them coming closer to each other.
Jordan Drops Hints To Marcus
Further, Curtis and Portia will begin their wedding preparations, but it won't be a cakewalk. General Hospital spoilers claim Jordan will have a conversation with Marcus. Will she drop some hints about the paternity? Looks like Jordan will want Curtis to know the truth before he ties the knot. But it isn't her place to disclose someone else's secret.
Finally, Scott will get updates about Lucy's survival and how she is with Martin at a safe place. At Britt's memorial service, Brad will prepare a gift for her with Selina's help. So, we have to see what it would be.
General Hospital Spoilers: Could Sasha Be Nina's Triplet? Here's How
General Hospital spoilers and rumors tease that there's a possibility that Nina Reeves (Cynthia Watros) could have another daughter, a triplet. This seems strange that Sasha Gilmore (Sofia Mattsson) could still be a sister to Willow Tait (Katelyn MacMullen) and Nelle Benson (Chloe Lanier) but here's how it could have happened.
General Hospital Spoilers: Willow Tait Was Given To Harmony Miller
It was recently revealed that Madeline Reeves (Donna Mills) gave baby Willow to her friend and dog walker Harmony Miller (Inga Cadranel) known at that time as Lorraine. She was a nurse and worked at the same hospital, Crichton-Clark as Phyllis Caulfield (Joyce Guy). After the baby girl was born, Harmony and her husband took off to the Peace and Love Commune in Clairborne County, Colorado where Willow was raised.Later, they moved from Colorado to New York state where they became members of Dawn of Day, led by Shiloh Archer (Coby Ryan McLaughlin). Willow recently found out that Nina is her birth mother and Nelle Benson (Chloe Lanier) was her twin.
GH Spoilers: Phyllis Caulfield Drove Nelle Benson to Florida
Phyllis didn't know there was more than one baby born to Nina but she was given baby Nelle whom Madeline had arranged to go to a couple in Florida. Frank Benson (last played by James Patrick Stuart) and his second wife raised Nelle, who Madeline arranged to adopt her supposedly through a baby broker.
When Curtis Ashford (Donnell Turner) tried to track down Nina's baby, through a baby broker he'd found Madeline used, that trail led to Sasha and Valentin Cassadine (James Patrick Stuart) found Sasha. Valentin was later suspected of faking a DNA match between Sasha and Nina but when Curtis had them redone, they still showed a mother-daughter match. But no new tests were ever done between Sasha and Nina and another troubling clue exists-why would Frank, who sold Nelle's kidney, pay big bucks to adopt Nelle?
General Hospital Spoilers: There Had To Be A Third Baby
There had to be a third baby because when Curtis found Sasha in Chappaqua, New York, he had traced her through the baby broker Madeline used. Phyllis never mentioned a baby broker being used to find the Bensons and Willow went straight to Harmony. DNA tests were never redone between Sasha and Nina, Curtis only had GH rerun the original DNA and assumed the samples were compromised.
So, Sasha may not be Willow's "fake sister" after all but her real one, and Nina might have the girl she actually has a mother-daughter relationship with as a real daughter. Time will tell if Nina and Sasha will find out if they're really mother and daughter.