General Hospital Spoilers reveal Nelle Benson Jerome (Chloe Lanier) could be headed back to Port Charles, and the fans are here for it! Nelle came onto the scene in 2016 and stole the show as the most dramatic woman Michael Corinthos (Chad Duell) had ever dated. Her scheming landed her a pregnancy by the young Quartermaine heir, but ultimately, Nelle was due to face her crimes.
On the run from the police, she escaped into the woods with Carly Spencer (Laura Wright) chasing after her just before Nelle fell to her ᴅᴇᴀᴛʜ off the side of a cliff. Of course, that means very little in the land of Port Charles.
Could Nelle return? Absolutely, and there's no better time to do it than when her twin sister, Willow Tait (Katelyn MacMullen) is ꜰɪɢʜᴛɪɴɢ for her life and in need of a savior.
General Hospital Spoilers — Willow Tait's Baby Can't Help Her
Willow is headed into surgery this week with Michael by her side. The plan is to deliver her baby girl by C-section, prematurely — which has left Willow very rattled and worried about health complications for the baby. When the baby is born, the doctors plan to use the stem cells in her umbilical cord to help Willow. However, when this intervention fails to produce the outcome they had hoped for, Dr. Sofia Navarro (Christina Ferraro) and Dr. Terry Randolph (Cassandra James) will be beside themselves with grief.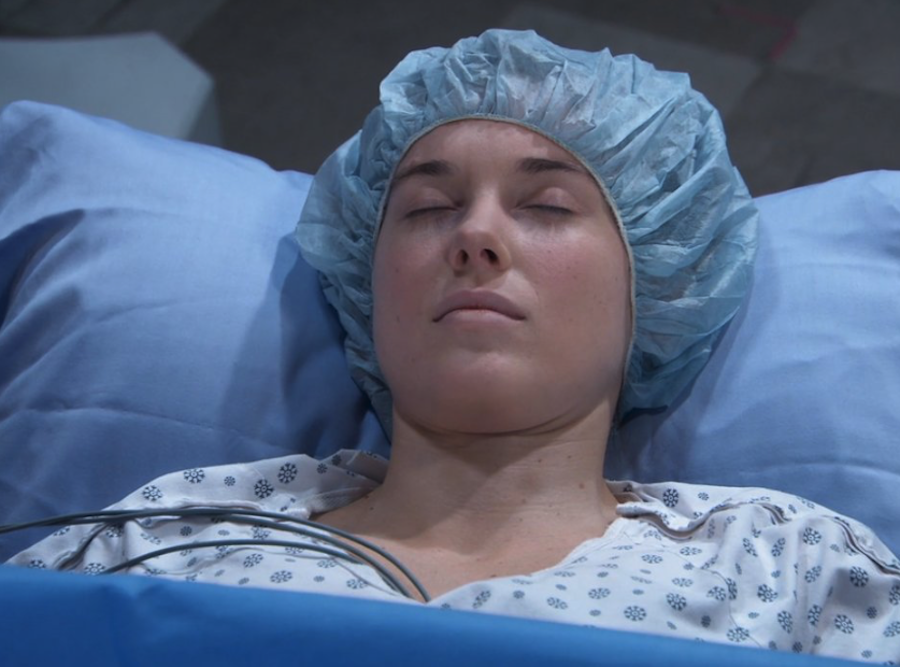 GH Spoilers – Hint An Anonymous Donor Rises Up
As Willow comes to accept that she will never leave the hospital or raise her children and marry Michael, they might go ahead and say their I do's in the hospital chapel — which no one will notice feels remarkably ironic for Willow, who married Harrison Chase (Josh Swickard) in the same space under false pretenses a couple of years back.
Feeling hopeless while waiting to hear if Wiley Corinthos (Viron Weaver) or Liesl Obrecht (Kathleen Gati) could be donors, her team of doctors will be working furiously around the clock to discover another way to help her. That's when they'll be notified that an anonymous donor has matched Willow on the registry.
General Hospital Spoilers — Nina Reeves Spirals
The donor on the registry prefers to stay anonymous even though Willow is eager to meet them and offer her thanks for their selfless act. When Nina Reeves (Cynthia Watros) overhears that the donor was an identical match — meaning it has to be a twin sibling to Willow — she will start to spiral, mentally. Nina only just found out Willow was Nelle's twin, and she's in a pretty vulnerable position right now, emotionally.
Certainly she didn't have triplets, so is it possible this donor is Nelle and that her other daughter never ᴅɪᴇᴅ? Will Sonny Corinthos (Maurice Benard) be able to manage her mood swings as she starts to obsess over who saved Willow's life and how convinced she is that Nelle is alive?
General Hospital Spoilers: Nina Learns a Secret That Blows The Lid Off Of Carly's Reunion With Drew
General Hospital Spoilers reveal Nina Reeves (Cynthia Watros) is always in the right place at the right time when she lurks the halls of GH. It wasn't long ago that she saw Willow Tait (Katelyn MacMullen) in a warm embrace with T.J. Ashford (Tajh Bellow) and assumed all the wrong things about it.
Having hopefully learned from that mistake, she might not jump to conclusion this time around after catching a peek of Carly Spencer (Laura Wright) and Drew Cain (Cameron Mathison) hugging much the same.
However, when she spots a similar encounter again — and possibly a liplock, Nina will know the two are more than just friends.
What's the big deal? Nothing, at least, not until Nina hears what Ned Quartermaine (Wally Kurth) has to say.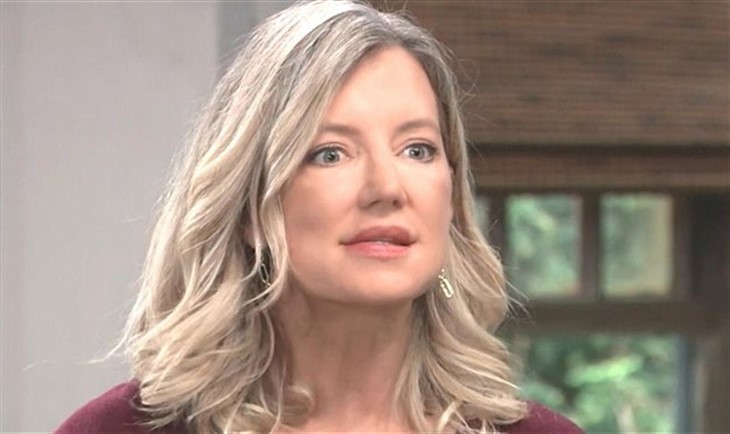 General Hospital Spoilers — Carly and Drew Can't Keep Their Hands to Themselves
Carly and Drew may have dodged giving Nina any specific impression of their relationship the first time around, but the next time won't be so easy.
When Nina catches them in a compromising embrace, there won't be any doubt that they are not merely platonic friends. She may even delight in having this information so she can test Sonny Corinthos (Maurice Benard) with it.
Nina has been quite insecure for some time that Sonny hasn't really moved on from Carly and can't stand to see her with someone else, much less someone he knows.
When she tells Sonny what she saw and he tells her he's known Carly and Drew are a couple, she will feel a bit rejected that he never looped her in.
This may be just enough to justify to herself that she doesn't need to drop her revenge plan in the name of pleasing Sonny.
GH Spoilers Hint Ned's Veiled Threat Still Looms
There's a lot of drama walk-in the halls of GH, and Med knows how to bring it when no one needs it.
Willow is potentially on her ᴅᴇᴀᴛʜʙᴇᴅ and facing the premature birth of her child.
That won't stop Ned from ranting to Brook Lynn Quartermaine (Amanda Setton) about Drew's involvement with Carly during the ELQ and Aurora merger that never happened.
That's all Nina will need to hear before she's salivating over the best possible way she could take Carly down. There is only one caveat — she will have to take Drew down, too.
General Hospital Spoilers — Nina Steps Up to Bat
When Nina realizes Sonny has been hiding the truth about Carly and Drew from her, she will only feel more emboldened to get payback against Carly for withholding the truth about Willow and Nina's relationship.
However, reporting them to the SEC sure would make Nina feel better, and maybe it would teach Drew a lesson about who to keep as ʙᴇᴅꜰᴇʟʟᴏᴡs.
Regardless, when she reports them for insider trading, she knows Ned will have to take the fall even if he swears it wasn't him.
Could there be a downside Nina doesn't see at the outset? Keep checking back with us for more GH news and spoilers to find out.