General Hospital spoilers and updates tease that Nina Reeves (Cynthia Watros) won't rest until Carly Spencer (Laura Wright) pays for what she did, and now she has a chance for ʀᴇᴠᴇɴɢᴇ. She spied Drew Cain (Cameron Mathison) and Carly in a clinch in a hallway at GH, noting how cozy those two looked!
General Hospital Spoilers – Nina Reeves Vented To Ava Jerome
Nina vented to Ava Jerome (Maura West) in a recent episode, as she was getting ready to go to the hospital for Britt Westbourne's (Kelly Thiebaud) memorial. Nina was devastated after finding out she didn't have the genetic markers to donate bone marrow to her newfound daughter Willow Tait (Katelyn MacMullen). She didn't think she could survive another daughter dying after she found out Nelle Benson (Chloe Lanier) was hers only after she ᴅɪᴇᴅ-thanks to Carly!
That was when Nina exploded in rage about Carly to Ava that she wouldn't rest until that woman paid for what she did. Of course, she was talking about keeping her daughters from her.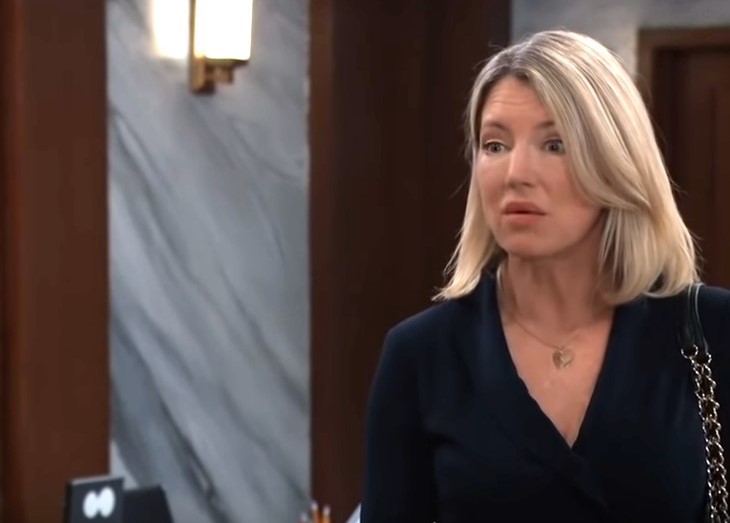 GH Spoilers – Carly Spencer Never Pays For Her Mistakes
It's been frustrating to many viewers that Carly never pays for her mistakes, if she even admits they're mistakes at all-the most recent, Drew forgiving her and taking her back. That was extreme over the top deception she'd used on him, starting with breaking her promise to him to tell him the truth about the DNA match between Nina and Willow.
Drew had caught Carly red-handed stealing a cup Nina had drunk from in Charlie's Pub, confronting her, then helping her get Willow's DNA, but not telling him about the match-she lied. Then she sabotaged his search for Willow's birth parents, paying off Denise Mackenzie (Alice Rietveld) to lie. Drew didn't automatically forgive her, making her promise she'd never lie to him again, but we all know how that will probably go!
General Hospital Spoilers – Nina Reeves Owns Half Of Metro Court Now
Nina knows that Carly got wiped out buying all that Aurora Media stock only for the merger with ELQ not to go through. Nina may have known some things about the impending planned merger from Valentin Cassadine (James Patrick Stuart) since they were talking about Charlotte Cassadine (Amelie McLain) during that time. Of course Michael Corinthos, (Chad Duell) is Carly's son in addition to being Drew's partner but seeing that clinch could get her to thinking.
Nina knowing about the planned merger wouldn't get her in trouble because she didn't buy or sell any stock. But if Carly did, either from Michael or from being romantically involved with Drew, she's be guilty of insider trading-and nothing would please Nina any more than to turn her in!
GH Spoilers: Thursday, February 2 – Heather Stops Esme – Brad's Final Britt Gift – Liz Turns Against Nik
General Hospital (GH) spoilers for Thursday, February 2, tease that Brad Cooper (Parry Shen) will have a special request for Selina Wu (Lydia Look), so it looks like that'll tie in with some way to remember Britt Westbourne (Kelly Thiebaud).
Since Britt pushed Brad and Maxie Jones (Kirsten Storms) to be friends before she ᴅɪᴇᴅ, perhaps Brad will decide to fill Maxie in on his plans.
At Kelly's, Maxie will be with Sasha Gilmore (Sofia Mattsson) when she admits she could really use some good news.
Brad may reveal some final present to honor Britt's memory and make sure she lives on.
Whether it's a scholarship, Huntington's research donation or something a little wilder, Brad will no doubt offer a sweet parting gift for his bestie.
Liesl Obrecht (Kathleen Gati) and Scott Baldwin (Kin Shriner) may also hear about Brad's gesture, so that could bring some light on an otherwise grim day.
It'll be hard for Britt's loved ones to say farewell at her memorial service, but the gathering should be full of memories and love.
In a moment alone, Nina Reeves (Cynthia Watros) will insist Britt's never going to be forgotten and will vow to make sure of that herself.
Liesl will also be surprised by someone who approaches her, so that could be Jordan Ashford (Tanisha Arnold).
Although Jordan knows she could get some backlash since the PCPD still hasn't caught "The Hook," she intends to show her support for Liesl and the rest of Britt's family.
Jordan will be a busy woman in Thursday's GH episode since she'll clear up another matter with someone else and face a suspicious conversation with Spencer Cassadine (Nicholas Chavez), too.
It sounds like Spencer will conceal that video confession from Jordan, but he'll still plan to use it to blackmail Nikolas Cassadine (Adam Huss).
Spencer will tell Sonny Corinthos (Maurice Benard) that he's more convinced than ever that Nik shouldn't be anywhere near his baby sibling.
At Spring Ridge, Esme Prince (Avery Pohl) isn't sure whether she should sign the document Nikolas brought or even trust him at all given the circumstances.
However, Esme doesn't have a lot of people in her corner and may be tempted to put her signature down like Nikolas wants.
Nikolas is obviously trying to get control of the baby, but Heather Webber (Alley Mills) will urge Esme to pump the brakes.
This could be Heather's chance to trash the Cassadines and insist she's the only one Esme can really trust right now.
GH spoilers say inspiration will strike for Heather, so she'll come up with a new plot and count on everything to work out like she hopes.
Meanwhile, Elizabeth Baldwin (Rebecca Herbst) will blast Nikolas for trying to drag Carolyn Webber (Denise Crosby) into their mess.
Nikolas will insist he was trying to protect Elizabeth, but Liz will insist the only thing she needs protecting from is him!
Over with Laura Collins (Genie Francis), she'll smile as she updates Hamilton Finn (Michael Easton) on an idea Elizabeth had.
Perhaps that'll be something related to Britt's sendoff at the hospital.
Regardless, Liz will eventually want to speak with Finn alone.
It appears Elizabeth will be ready to make a big confession, so she may admit she lied about her affair and brief pregnancy by Nikolas.
Liz may confess that she was actually helping Nikolas hold Esme hostage, so that could be why Finn will face a sʜᴏᴄᴋᴇʀ by the end of the week.
Finally, Laura will deliver a sincere plea to Nikolas and most likely hope there's still a way forward in his relationship with Spencer.
Unfortunately, Spencer's about to make a startling announcement, so that blackmail video seems poised to turn things upside down!
General Hospital spoilers say Spencer and Nikolas' custody battle could bring major drama, so stay tuned.
CDL will have all the sizzling General Hospital spoilers, updates and news, so visit us regularly.